The Day I Thought Ed T was Lan M
This is just a little fan-girl story

I became a huge fan of
Lan Medina
after I saw his work in Bill Willingham's
Fables
. Little did I know that years down the line I would actually meet...
his wife

It was on the last day of Glasshouse Graphics' 2006 Comics Creation Seminar and my friends were hanging around outside the venue. Suddenly, a long-haired lady whom I will always remember for her big, warm smile greeted the guys and they started chatting. With her was a slender fellow whose long curly hair was tied back in a ponytail. I'll admit, the words "Jesus Christ Superstar" came to mind

The guys, sweet adorable pals who mean the world to me, kinda conveniently forgot to introduce me and they went on chatting with the nice lady. They called her Ate Mayette and through snatches of their conversation I eventually learned that she was Lan Medina's wife.
I went...*blink-blink*...Lan? Fables Lan?...*blink-blink again*...And I turned my gaze to the Jesus Christ Superstar-haired fellow.
The rest of the time the guys were talking to Ate Mayette, I kept suppressing the urge to go up to her companion, introduce myself as a huge fan of his work, and maybe...just maybe...ask for an autograph. OMG, I was thinking...That's Lan Medina right there!
But in the end I was too shy to do so, and after Ate Mayette left, I said to the guys, "So that was Lan ..."
There was silence, followed by "Ha?" uttered almost in unison, which I replied to with, "
Di ba si Lan yung kasama ni Ate Mayette?
(Wasn't that Lan with Ate Mayette?)"
Another moment of silence followed, but it didn't last long because the guys cracked up and somehow, in a very messy way, managed to explain that the Jesus Christ Superstar-haired fellow was in fact artist
~
edtadeo
.
Leonard then said to me, "I wish you went up to him and introduced yourself. That would have been too funny."
Kicked him in the shins for that. Or tried to anyway

Both Ed and Lan have deviantart accounts and I thought this was a perfect opportunity to showcase their work.
So, folks, Lan Medina is

Features from my favorites --
And a selection of other artwork from his gallery --
Now a blast of uncommon awesomeness from

Do check out Ed's website
Nyek!
where he now uploads his latest work

Postscript: Toycon 2008
We were at Toycon 2008 at SM Megamall last June 14 and it was packed elbow to elbow with humanity! Managed to take a few photos while keeping our ribs intact...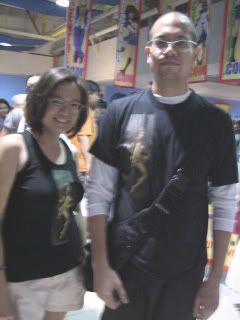 Wonder Twins wear Narra

Our gift to
~
nerp
, featuring Leonard's take on one of Ner's hottest characters. Photo taken by
*
Variable-Edge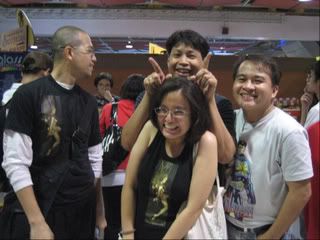 Teacher o, making
sungay
!

(L-R - Leonard Banaag, Gilbert Monsanto, Gio Paredes, and meeper up front)Photo taken by
*
Variable-Edge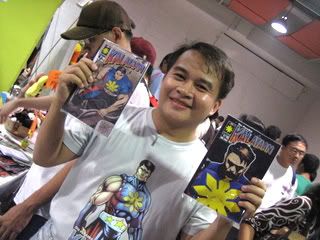 Check out Gio's cool Kalayaan t-shirt

Photo taken by
*
Variable-Edge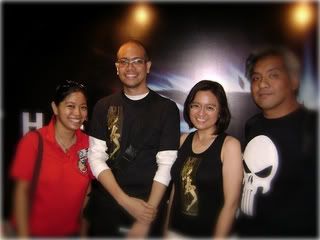 Caught up with Star Wars Philippines' Rej Layug (extreme left) on the way out. With us is our pal, inker Aries Mendoza (extreme right). Thanks to Rej for the photo!
Post-postscript
Finally

Happy Summer Solstice everyone!
Spiffy journal look brought to you by *Wyrdling


My Doctor Who Stamp Collection

:thumb84096942:
:thumb83869627:
:thumb57374068:
See more on my
Shoutboard
. Hee.
This giddy fan-girl is a member of the
#
doctorwhoclub